Bold Discounts allows you to runs sales like other online and brick-and-mortar stores by reducing the product price when products go on sale, and then returning them to regular price when the sale is over.
When a discount group is enabled in Discounts, the original price of your product is replaced with the discounted price created in Discounts. The original price is then shifted over to the compare at price field. Once the sale is over, the discounted price automatically reverts back to the original price, and the compare at price is removed.
Discounts allows you to create unlimited discount groups which you can use to place different items on sale. You can place individual products on sale, entire collections, or your entire store. Apply the discounts by percentage or dollar amount.
Other Discounts features include:
Daily Deals
Sales icons and countdown clocks
Scheduled sales (set to automatically begin and end)
And more!
To learn more about Discounts, view the sections below. When you are ready, please visit Set up Bold Discount to get started!
---
Availability & Installation
Discounts can be installed through the following link: Shopify App Store - Bold Discounts.
Discounts does not require any liquid code to function on your site. The app works on a series of server calls to place your items on sale. Discounts V1 has optional liquid code installations if you wish to:
Display sales icons on your discounted products.
Display a sales clock / countdown timer on your sale products.
Integrate with Bold Upsell to offer Buy One Get One deals.
You can find the installation steps by visiting our Installation Guide for Bold Discounts.
Installing Discounts through the Shopify App Store automatically installs Discounts. If you require a feature from Discounts Powered by Bold Price Rules, please reach out to our Customer Success team. To read more about the difference between the two versions of Bold Discounts, please visit Bold Discounts & Bold Discounts Powered by Price Rules Comparison.
---
Pricing
| Feature | Basic |
| --- | --- |
| Price Per Month | $19.99 (USD) |
| Create unlimited discounts | ✔ |
| Storewide sales | ✔ |
| Scheduled sales | ✔ |
| Custom sales icons | ✔ |
| Live countdown timers | ✔  |
| Daily Deals | ✔ |
| Sync prices across sales channels | ✔ |
---
Features
Create Unlimited Discounts
Discounts allows you to create as many discount groups as needed, allowing you to place individual products or collections into separate discount groups and offer unique discounts across your store.
Create a 20% off discount for your shoe collection and a 10% off discount on your gloves collection.
If you would like to apply discounts to specific customers rather than to all customers, this can be achieved by using Bold Custom Pricing.
Storewide Sales
Discounts allows you to select the entire store in a discount group, allowing you to easily place the entire store on a set discount. You can also select a specific collection or individual products.
Scheduled Sales
Set a start and end date for when you would like the discounts to apply and stop on the storefront.
Using a start and end date automatically activates the discount and deactivates the discount, without the need of any manual intervention.
Add a sales clock to this option to create a sense of urgency for your customers. Your customers are able to see the time countdown until the sale ends.
Compare at Pricing
When a discount group has been enabled in Discounts, a compare at price is added automatically to each product associated with the discount group within the Shopify admin. If your theme supports compare at pricing on the storefront, a strikethrough is added to the price for any product that is discounted in Discounts to show customers the amount they are saving.
Let's say a product that has a price of $10.00. The discount group has a 10% discount. When the discount group has been turned on, the original price of the product shifts over to the compare at price field and the price field is updated to $9.00 to reflect the 10% discount.

Shopify admin view (during sale):





Storefront view (during sale):




When the discount group has been disabled, the compare at price is removed and the original price is added back to the price field.

Shopify admin view (after sale):





If you've manually added a compare at price to your product, Discounts skips this action. It is best to leave the compare at price empty so the app can populate that field and properly calculate the discount.

If the compare at pricing is not showing for products on the storefront that are being discounted via Discounts, please visit Troubleshooting with Bold Discounts for steps on resolving this issue in your theme.
Custom Icons
Discounts provides you with the ability to display icons on your products that are in an active discount in the app. Choose between many different custom icons, such as a starburst, tag and ribbon.
If you have your own sales icon that you would like to use rather than one of the default options available, you can apply your own sales icon as well.
Discounts V1 icons: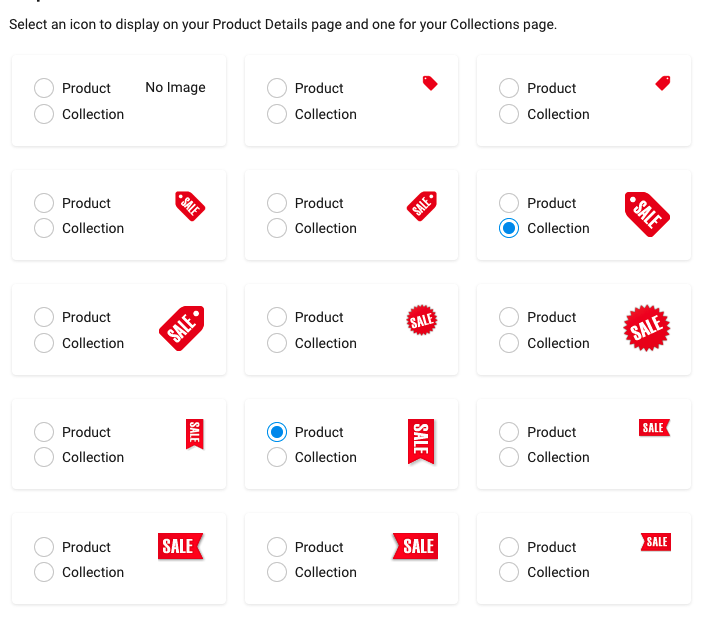 Daily Deals
Discounts allows you to create daily deals by applying a tag to products that are being discounted in a specific discount group.
You can create a smart collection of products with that tag so they are automatically added to the collection. Once the sale is over, the tag is automatically removed and the products are removed from your smart collection.
In app view: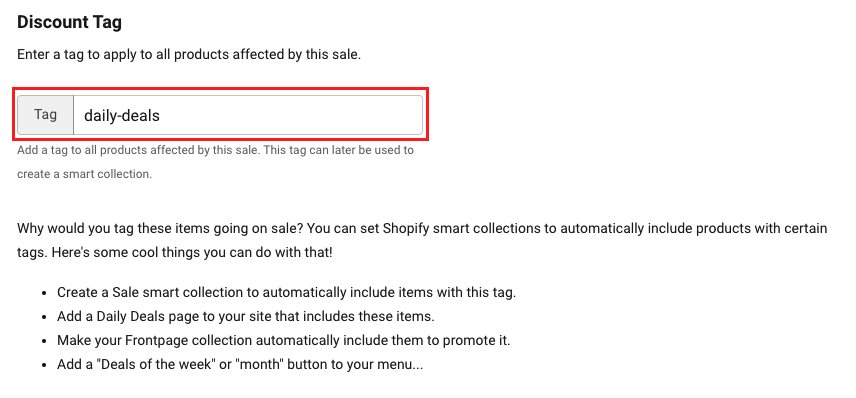 Live Countdown Timers
Discounts offers a customizable sales clock to display on your storefront. You can use this clock to express a sense of urgency to your customers in making a purchase.
The text in the countdown timer, as well as the remaining time in days, hours, minutes and seconds can all be adjusted in Discounts to fit your store needs.
Sales clock: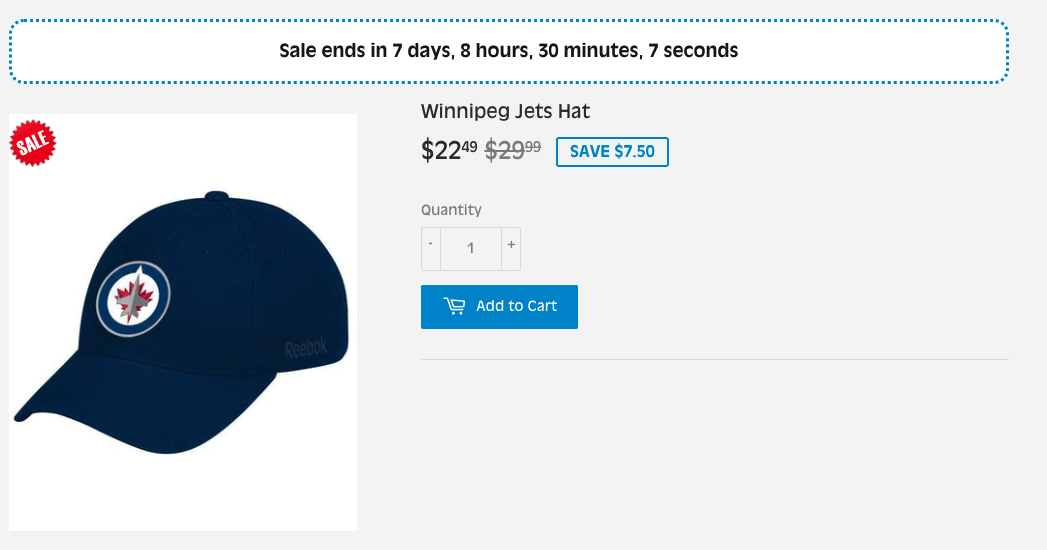 Multi-Channel Price Sync
The discounts that are created in Discounts change the price set on the storefront for your products.
Since the discounts are applied to the product price in Shopify, changing the price field reflects the discounts on all sales channels that uses the price field set in Shopify to display product prices, such as Shopify POS, Facebook, etc.
---
Integrations
Discounts integrates with some other Bold apps. Some of the integrations allow both apps to work together on the storefront, such as offering Buy One Get One (BOGO) offers created in Bold Upsell.
Please visit Bold Discounts Bold Integrations for more information on this integration, and more.