Bold Upsell offers various analytics for tracking the performance of your offers, as well as a series of reports and charts to show you how well your offers are performing on the storefront.
You're able to see how many times the offers have been viewed, which products are being added to your customers' carts, and what products are being purchased. Each time one of these actions occurs, the information is recorded in Bold Upsell.
This overview article will provide a breakdown for the dashboard metrics reporting data, as well as the reporting data available in Upsell under Dashboard Metrics and Reports.
---
Functionality

Dashboard Metrics
Upsell records customer data and the actions they take with your offers on the storefront. On Upsell's Dashboard, the data collected over a certain period of time is displayed from all of your offers as a whole.
When a customer takes any action with your offer, it will be recorded and displayed to you on the Dashboard.
You'll see an overview of all your offers over a period of time that you've selected. The historical data displays the amount of views on your offers, the amount of times an offer was added to a customer's cart, the conversion rate (how many times a customer purchased an offer), and the revenue made from the offer products.

Reports
Within the Reports section of Upsell, you will be able to see key metrics that detail your Upsell Analytics. These statistics are updated in real-time, so be sure to check this page often to see how your offers are progressing.
Reporting data for each offer can be found under Reports. Some of the reporting data includes how often each offer is added to the cart, the number of offer products that were purchased in total, and the purchase amount for each offer product.
The Reports section also offers historical data using line and pie graphs for the previous months that Upsell was installed and was active on your store. These graphs display views of all offers that were active, the amount of offer products that were added to the cart and the amount of offer products that were purchased.
---
Features

Dashboard Metrics
You're able to manually select the reporting date range in the top-right corner of the Dashboard.
The historical reporting data can be viewed from the last 7 days, last 30 days, month-to-date, and year-to-date. You can also use a custom start and end date to view the historical data as well.
Pro-Tip
Using these set date ranges is a good way to identify if the plan you are on now will be sufficient during the busier times of the year. If you find that your views are trending higher, you can then upgrade your Upsell plan to the next tier.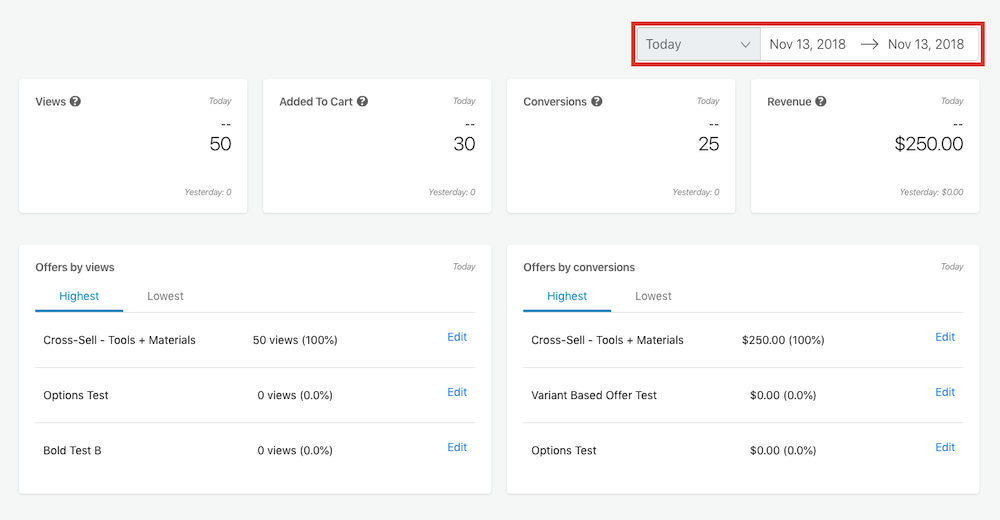 Reports
Each time a customer views a cross-sell or upsell offer, adds an offer product from the upsell pop-up window, or purchases an offer product in the checkout, this will be recorded within the Reports section in Upsell.
Here is an example of some cross-sell and upsell offers that have some views, offers that were added to the cart and purchased in the checkout: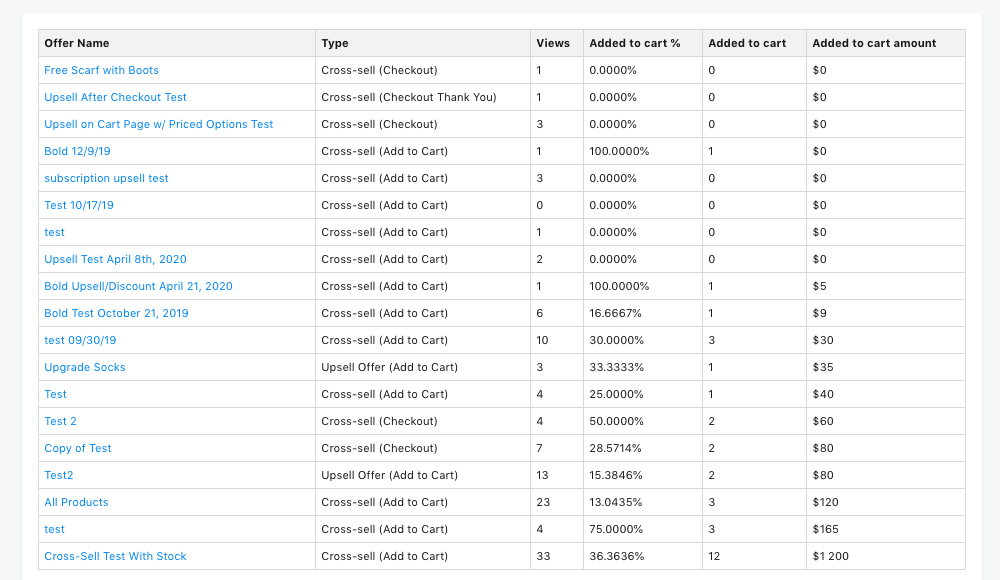 After selecting one of the offer names, this will bring you to a reporting page for the offer you selected. The reporting page will provide a couple of graphs detailing which products are being purchased in the offer and when these products are being purchased:
Learn more about Upsell's dashboard metrics and reporting in our dashboard & reporting article.