The Customer Portal is an area within your customers Account area that allows them to make changes to their subscription order. This includes updating their billing information, subscription intervals, quantities, and the ability to pause/cancel their order.
Your customers are able to access the Customer Portal by logging in to their Account via your storefront. This link appears differently based on your theme, but examples of what this can appear as can be seen below: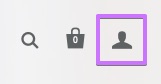 It is important to note that this link will not appear if you don't have Shopify Customer Accounts enabled. Please visit Shopify Customer Accounts for more info.
To make adjustments to this section, open the Bold subscriptions V2 app and navigate to Settings > Customer Portal. From here, you will see the options for the features that could be enabled for your customers on your storefront.
Pro-Tip
Please note that this article only relates to Version 2 of Bold Subscriptions. If you have Version 1 currently installed on your store, then please visit our Manage Subscription Page for V1 article.
If you are unsure which version that you currently have installed on your store, please visit our Bold Subscriptions Comparison article for more information.
This article will help you understand, and set up the Customer Portal on your store.
---
Setup
Bold recommends setting customer accounts to either optional or required in your Shopify admin in order to see the account management page of your store. For more information on making this adjustment, please visit the Shopify Customer Accounts article.
Once the liquid code installation is completed, a My Subscriptions link will be present on the account management page: