Shipping rates and discount codes are configured directly from within Shopify for Bold Subscriptions V2. This article will outline how to configure these settings, any limitations to be aware of, and answer some frequently asked questions.
---
Shipping rates are configured directly within the Shopify settings of your store. For more information on setting up shipping rates in Shopify, please visit Shopify's article, Setting up shipping rates.
Customers will be able to purchase one-time products and subscription products within the same checkout. When a purchase has both a one time product and a subscription product, your customer will only be charged one rate. When the subscription product is set to recur, Shopify will use the least expensive shipping rate.
Example
In this example, you can see that a customer can choose a different shipping rate for the One-time purchase product, but the Subscription product will recur with the lowest rate.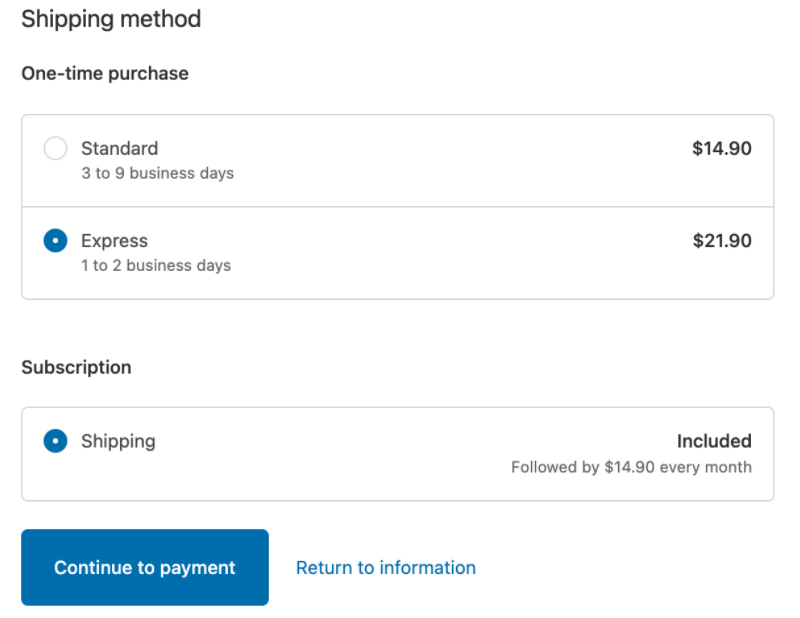 Limitations
Only the least expensive shipping rate is available for subscription products. Customers are not able to choose between multiple shipping rates within the checkout.

Subscriptions cannot support

local delivery

or

pickup

options.
Please check back often. Shopify is working on updates which may change some of the above limitations in the future.
---
Discount codes are configured directly within the Shopify admin of your store.
When creating a discount, navigate to the Discounts tab in Shopify. From within this area, you will have the ability to select whether the discount is available to customers making a one-time purchase or a subscription purchase: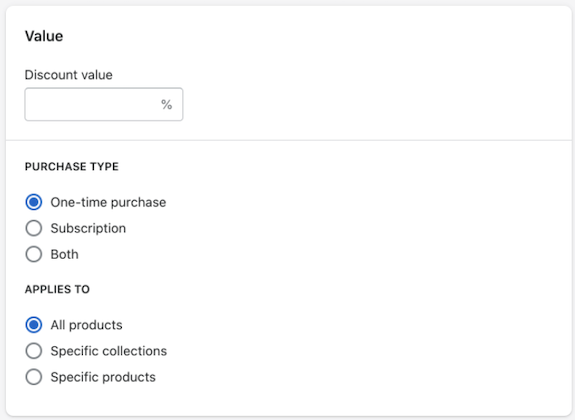 Selecting Both under the purchase type will allow the discount code to apply to all applicable products that are one-time products, or subscriptions. The discount codes can also be narrowed down to specific products or collections, to give the ability to offer more specific codes.
For more information on creating this on your store, please visit Shopify's article on Creating Discount Codes.
Limitations
Buy X Get Y discounts are not eligible for Subscriptions.
Discount codes can only be added to a subscription by the customer during their initial purchase; however, you can add a discount code to a customer's existing subscription from the Subscription V2 admin. For more information on how to do this, please visit Subscription Management: Merchant Perspective.
---
FAQs
Yes. You can create and offer a discount code for free shipping on Subscriptions from within Shopify. For more information on creating this on your store, please visit Shopify's article on Creating Discount Codes.
If you have updated your shipping rates for products that are in an active subscription order, the shipping rates will not automatically update when the order recurs. This is because all shipping rates are grandfathered in from the original order.
If you would like the new shipping rate to apply to your existing subscribers, the existing subscription would need to be cancelled and re-purchased on your storefront by your customer.
As a work around to asking your customer to cancel and resubscribe, you can make a slight change in the customer's account which will cause the subscription re-sync and look for the new shipping rate. Slight changes could include updating the customer's address, or the quantity of the product. You can then revert this change so the correct information is properly stored along with the new shipping rate.