By default, as Subscriptions for Shopify Checkout integrates with the Shopify checkout, your Shopify shipping rates are also applicable to your customer's subscriptions.
This article provides a general description of how Shopify applies your shipping rates to your customer's subscription orders. Please refer to Shopify's shipping guides or contact Shopify's support directly for issues or questions regarding your Shopify shipping rates.
If you'd like to set up fixed shipping rates for your subscriptions, please visit Fixed Shipping Rates in Subscriptions for Shopify Checkout.
---
Functionality
When an order has both a one-time purchase and a subscription product together, your customer is only charged one rate.
If an order contains a subscription product only or the subscription product is set to recur, Shopify will use the least expensive shipping rate.
Example

In this example, you can see that your customer can choose a different shipping rate for the one-time purchase product, but the subscription product will recur with the lowest available rate.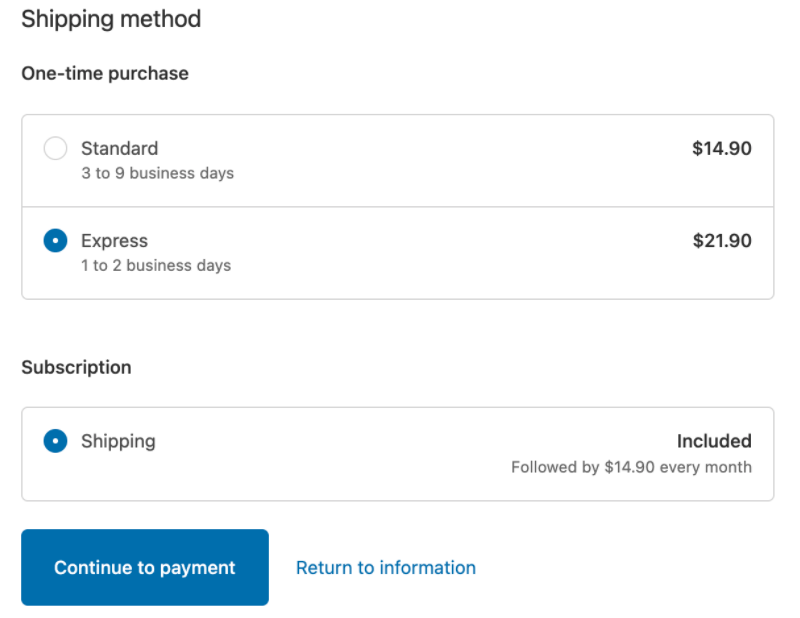 ---
FAQs
Yes. You can create and offer a discount code for free shipping on subscriptions from within Shopify. For more information about creating discount codes within Shopify, please visit Shopify's support article.

Bold Subscriptions also allows you to define fixed shipping rates by country. For more information about this feature, please visit Fixed Shipping Rates in Subscriptions for Shopify Checkout.

Updated Shopify shipping rates are not automatically applied to existing subscriptions. This is because all shipping rates are grandfathered in from the original order. The subscription would need to be cancelled and then re-purchased by your customer in order for the new rates to apply.  

As a workaround, you can make a slight change in your customer's account which will cause Bold Subscriptions to look for a new shipping rate. For example, you could update the customer's address or the quantity of the product. You can then revert this change so the correct information is properly stored along with the new shipping rate.

Note: If you would like to create fixed shipping rates in Bold Subscriptions, you can update your existing subscribers shipping rates at the same time. For more information, please visit Fixed Shipping Rates in Subscriptions for Shopify Checkout.