The Bold Account Center is a new tool that stores can use to access apps such as Bold Subscriptions V2 & Bold Discounts Powered by Price Rules, or manage who has access to create API access tokens to start using our available APIs to launch new integrations.
To create a new organization, you will need to create and link your store to the Account Center.

To join an existing store or organization, you will need to manually reach out to the admin of the existing store or organization and request they send you an invitation.
Alert
Please note that this article only relates to the Account Center on Shopify.
If you are using a different platform, please visit the articles relevant for Bold Account Center on BigCommerce, WooCommerce, or commercetools, here.
---
Pro-Tip
Within this article, an Organization is a term that refers to your company's name.
Navigate to the Bold Account Center Login Page.

Select Get Started.


Select Create a new organization of your own.


Enter your Name, Organization, Email, and Create a Password.

Note: For Organization, you will want to use a name that represents your company. This name is only for Account Center purposes as you can add multiple stores to your organization in Account Center.

Select

Create account


Enter your Platform and Store URL, then select Add store.

Note: When adding your store address, you will need to use the default myshopify.com URL. For example, [your-store-name].myshopify.com.




If you already have Bold Subscriptions V2 or Bold Discounts Powered by Price Rules installed, you will be prompted to verify your store.



Note: If either of these apps are not installed on your store, then this step will be replaced with the option to add the compatible apps to your store. Once you add the app onto your store, you'll be able to access the Bold Account Center management features.

Access the available Bold Apps for your platform.
This feature is coming soon. Currently, you will need to manually reach out to the existing admin of the organization and request they send an invitation to join their store. Once the invitation is sent, an email will arrive to direct you on how to join the organization.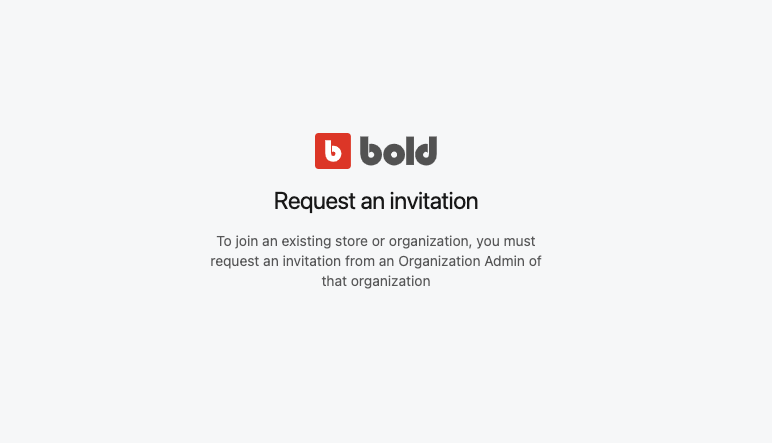 ---
Accepting the Invitation
To accept the invitation, select Join from within the email.

From here, you will be directed to Join a new store. Fill out your email, name, choose a password, and select Join Now.