Strong customer authentication (SCA) is a requirement of the EU Revised Directive on Payment Services on payment service providers within the European Economic Area. This requirement ensures that electronic payments are performed with multi-factor authentication to increase the security of electronic payments.
SCA is triggered by your customers bank and will require that your customer authorize their payment. In regards to subscriptions, authentication can be required at the time of initial checkout or in order for a recurrence to process.
For recurring orders, Shopify will send out an email to your customer with a link to authorize their payment.
---
If the payment triggers authentication, your customer must authorize the payment before the order will process successfully.
If your customer does not receive their authorization email, they will need to login to their Customer Portal to generate a new link. This requires your customer to have a customer account on your store as well as access to the Customer Portal.
Limitations
Orders that require authentication cannot be edited by your customer or an admin.
---
Shopify will send out an email to your customer with a link to authorize their payment. Your customers will also be able to authenticate the payment from within their Customer Portal.
Example
Customer facing email sent by Shopify:
View in the Customer Portal: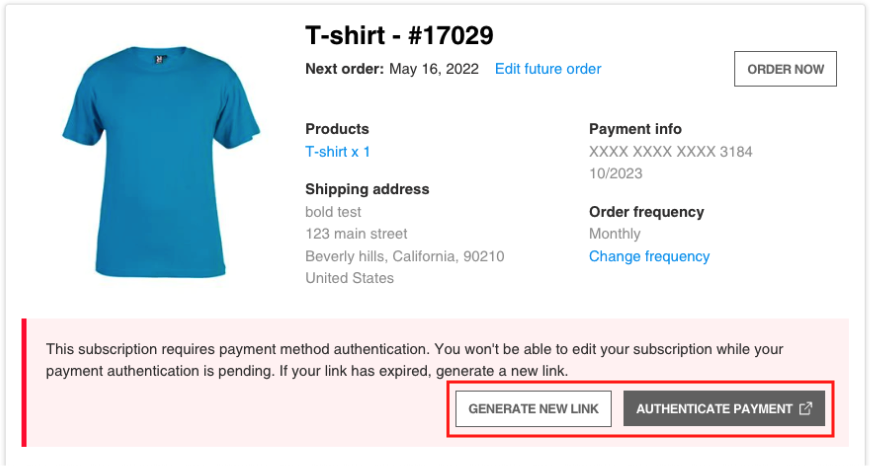 Pro-Tip
If your customer tries to authenticate their payment but the link says it has expired, they can generate a new link in their Customer Portal as shown above. This will trigger a new email to be sent to the customer.
If the SCA authentication is still pending, you will see a message appear on your customer's subscription in the Subscriptions V2 admin.
Example