The Bold Account Center is a great tool that stores can use to access apps such as Bold Subscriptions V2 & Bold Discounts Powered by Price Rules, or manage who has access to create API access tokens to start using our available APIs to launch new integrations.
It is important to note that this article is specific to those who are creating an account in Bold Account Center and do not have a Bold app installed.
If you are an existing Shopify merchant, the following steps will be skipped as Bold validates the ownership of each store when Bold applications are installed.
Alert
Please note that this article only relates to the Account Center on Shopify.
If you are using a different platform, please visit the articles relevant for Bold Account Center on BigCommerce, WooCommerce, or commercetools, here.
---
Caution
Before following the guide below, it is required that an account already be created & connected to your store in Bold Account Center.
Please visit Create & Connect a Bold Account for more information.
After selecting Shopify as your platform and entering your store URL, you will be asked to install a Bold app in order to proceed.

This is done in order for us to verify that you indeed own the store URL that you entered, which keeps the process secure. You can add or remove apps once this process has been completed.

This will prompt you to log into Shopify. Enter your password, then select Log in.

Once signed in, select Install app.

Select a plan.

Select your preferred payment method, then select Approve.

After the test charges have been approved, a prompt will be displayed to notify you of the start of the application trial, as well as when the first charge will occur.

If you are installing Bold Subscriptions, select Go to Subscriptions.
If you are installing Bold Discount Manager, select Go to Discount Manager.


Select Accept and Continue.
After accepting the Terms of Service, you will immediately be brought to the applications' admin page.
---
FAQ
You can verify that the Bold app has been installed by returning to the Bold Account Center Launchpad. You should see your newly integrated Bold app under the Bold Apps heading.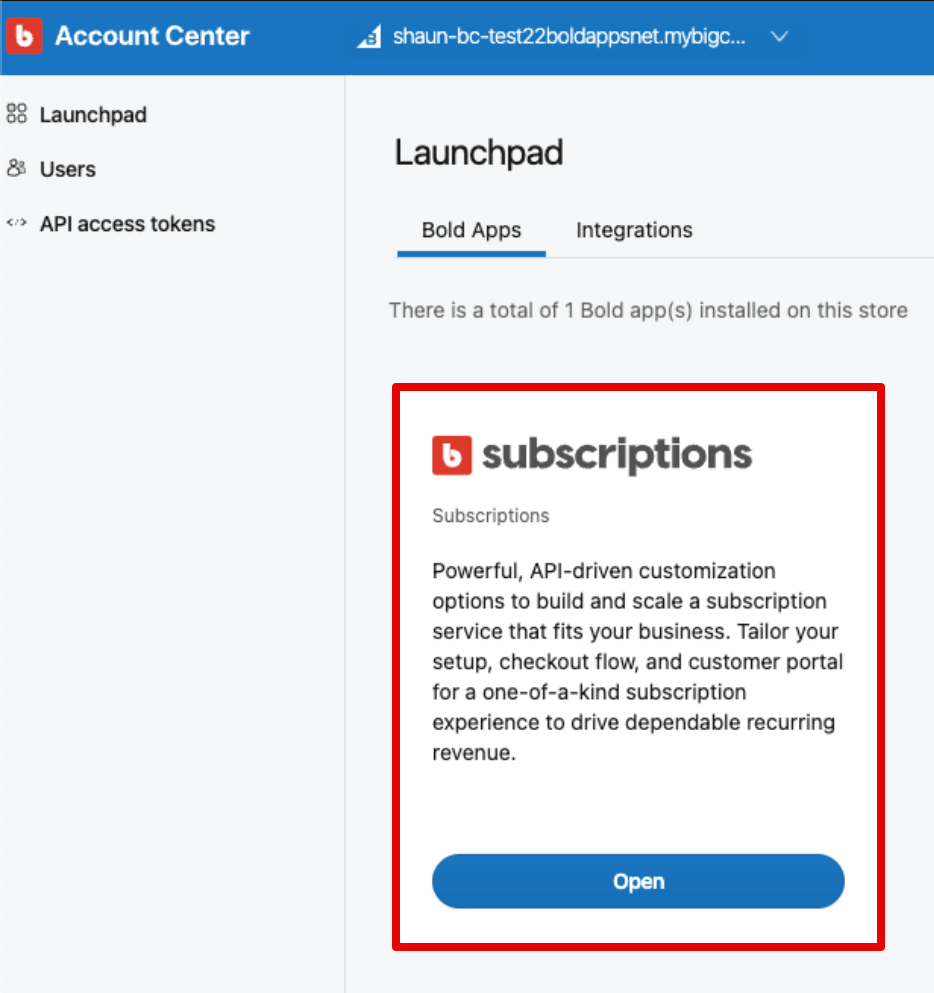 ---
You can uninstall an app by returning to the Bold Account Center Launchpad.
Select the ellipsis button, then Remove app.

You will be asked to confirm the removal of this app. Select Remove.

Once completed, you will see a confirmation message appear in the lower right of your screen.