Overview
Creating discounts is how Bold Discounts is able to place your products on sale. The app takes the list of products that you give to it and communicates with Shopify's servers to change the selling prices.
There are different kind of discounts that can be created in Discounts. These discounts include placing the entire store on a discount, having a select amount of products on a sale, or a daily deals type of discount that uses a collection of products.
Note: We are only able to change your product prices at a rate of roughly 1000 variants per hour. This is due to a limitation of how quickly we can access Shopify's API.
This help article will go over different kind of discounts and how each discount can be setup in Discounts.
---
Create a Discount Group
Bold Discounts allows you to choose which products you want to be applied in a discount group.
Individual products can be found in the product selector by searching for collections, product types, smart collections, vendors, or by using a product title.
Applying a discount to select products are commonly used in Discounts to allow a unique discount to a handful of products, while other products are receiving a higher or lower discount in another discount group.
To create a discount for a single product in Discounts, please follow these steps:
From within Discounts, select Current Discounts.
Select Create Discount.
Enter a Discount Name.
Enter a Discount Amount.
Select a Discount Type.

Note: You can select either a percentage or dollar amount discount.

Choose Select Products.
Select Add next to each of the products you would like to discount.

Note: You can also filter by collection, vendor, and product type. This allows you to select a collection of products by sorting the results by collection, then either selecting Add next to each product or by selecting the "Select All Results" option.

Select Continue with selected products.
Select Enable Date Range (optional).
Select a Start Date.
Enter a Start Time.
Select an End Date.
Select an End Time.
Select Override cents and enter a cent amount (optional).
Enter a Discount Tag.
Under "Duplicate & Hide" select Create a hidden duplicate (Liquid update required) (optional).

Note: Use this when you have completed the duplicate & hide steps from the Bold Discounts V1 Install Instructions article and are using Bold Upsell.

Select Create.
Select the Toggle to enable the offer.

Note: The toggle will be green when the offer is enabled.
---
Put Entire Store on Sale
Discounts allows you to pick and choose which products receive a discount when creating a discount group in the app.
Please see "Create a Discount Group" located above for steps on how to create a discount in Discounts. When you get to step 7, choose the Select All Results button in the product selector rather than the Add button.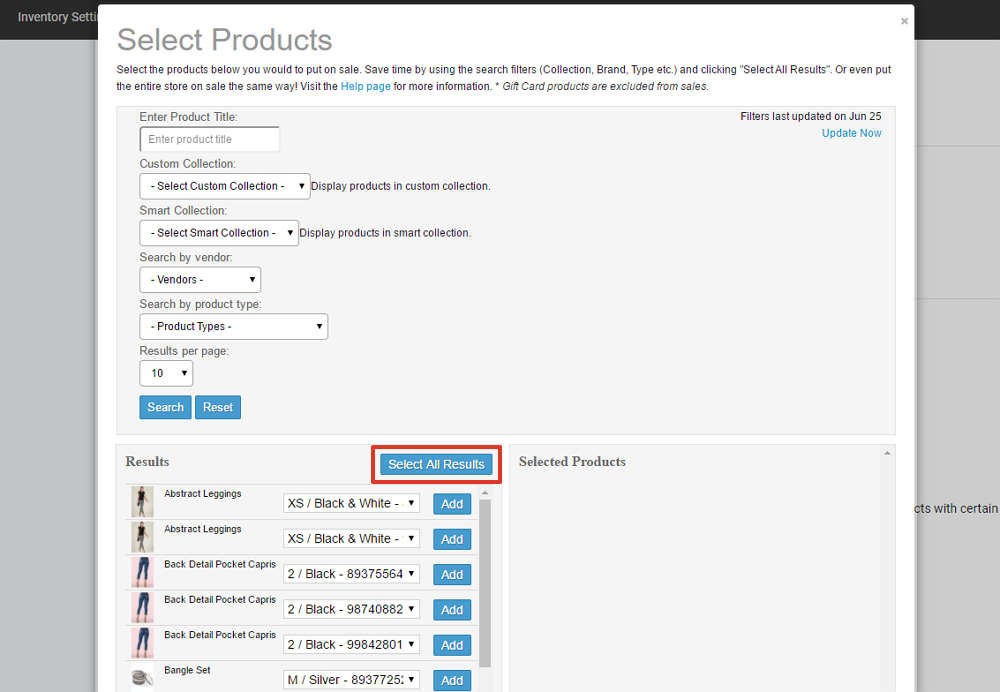 ---
Create Daily Deals
Discounts allows you to enter discount tags when you go to create your sales. The app will tag each item it places on sale with the specified tag. You can then use these tags to create a collection of on sale products only.
To create a daily deals page, please follow these steps:
From Shopify's admin, select Products.
Select Collections.
Select Create collection.
Enter a Title.
Enter a Description.
Under "Conditions", select Product tag in the first drop-down box.
Leave is equal to in the second drop-down box.
Enter the Product Tag.
Select Save collection.
Select Online Store.
Select Navigation.
Select Main menu.
Select Add menu item.
Enter a Name for the navigation item.
Select Collection from the "Link" drop-down menu.
Select the collection you created (Daily Deals) from the drop-down menu.
Select Save menu.
After a collection has been created and the collection is assigned to a navigation link, you will need to follow the steps located above under "Create a Discount Group" and choose the collection.
Make sure you enter the exact Product Tag you entered in Step 8. To remove all the products from the page, pause the discount.