Bold Subscriptions for Shopify Checkout allows you to quickly launch and scale your subscription business. Packed with features, it seamlessly integrates with your Shopify store to give you the ability to sell your products on a recurring basis.
Bold Subscriptions comes with a robust suite of tools. Out-of-the-box you can:
Allow your customers to manage their own subscriptions in the Customer Portal.
Send email notifications using the built-in email templates.
Set up a custom cancelation flow to reduce churn.
Download reports to analyze your subscription data.
Access powerful APIs.
And much more...
For more information, select an option below. When you're ready, visit Set Up Subscriptions for Shopify Checkout.
---
Availability & Installation
Bold Subscriptions is currently available on Shopify. 
Bold Subscriptions requires Liquid code to be added to your Shopify theme in order to work properly. To see all your options for installing the liquid code, along with the steps, please visit the Installation Guide for Subscriptions for Shopify Checkout. 
Each theme on your Shopify store is different. If you're switching to a new theme, the liquid code will have to be installed on the new theme as well. 
---
Price Plan
Currently, Bold Subscriptions has a monthly fee of $49.99, with a 1% transaction fee that applies to orders with a subscription product present. A 60-day free trial is also offered to your store when it is first installed.
This plan includes all of the following perks, below:
Feature

Plan

Price per month

$49.99
+1% Transaction Fee

Standard Subscriptions

✔

Analytics Tracking & CSV Exports

✔

Customizable Email Notifications

✔

Subscription Discounts

✔

API Access

✔ 

Customer-managed Subscription Portal

✔

Cancellation & Dunning Management

✔ 

Billing & Fulfillment Matching (Cutoff Days)

✔

Shopify Checkout Integration

✔

Log in as Customer

✔

Mixed Cart Functionality

✔

Priority Support

✔
Visit Pricing and Transaction Fees in Subscriptions for Shopify Checkout for more information.
For more information on PCI compliance, please visit Shopify's help center.
---
Eligibility
To ensure your store is eligible to run Bold Subscriptions for Shopify Checkout, please check the following conditions below.
Your store must use Shopify Payments, PayPal Express, or Authorize.net to process your customer's payments.

Customers can't use accelerated checkouts such as Amazon Pay, Apple Pay, Klarna, mollie iDEAL, and Sofort to purchase subscriptions.

Note: Customers can use the accelerated checkouts Google Pay and Shop Pay. For more information on Shop Pay, please visit Shopify's article: Activate Shop Pay.

A Storefront API cannot be currently used to build your storefront. 
Must not have an existing subscription service. An existing subscription service may cause front end compatibility issues. 
If you are interested in migrating your subscription business, please visit Migrating to Bold Subscriptions for Shopify Checkout.
---
Features
Standard Subscriptions
You can easily add a subscription option to your products with a just few clicks. Offer subscribe & save discounts and a variety of frequency options to encourage recurring orders.
Create, customize, and build your own unique subscription offerings. Use the cutoff days feature to match your billing cycle with your fulfillment cycle for a seamless flow.
To see how to set up a subscription, please visit Create a Standard Subscription Group in Subscriptions for Shopify Checkout.
Example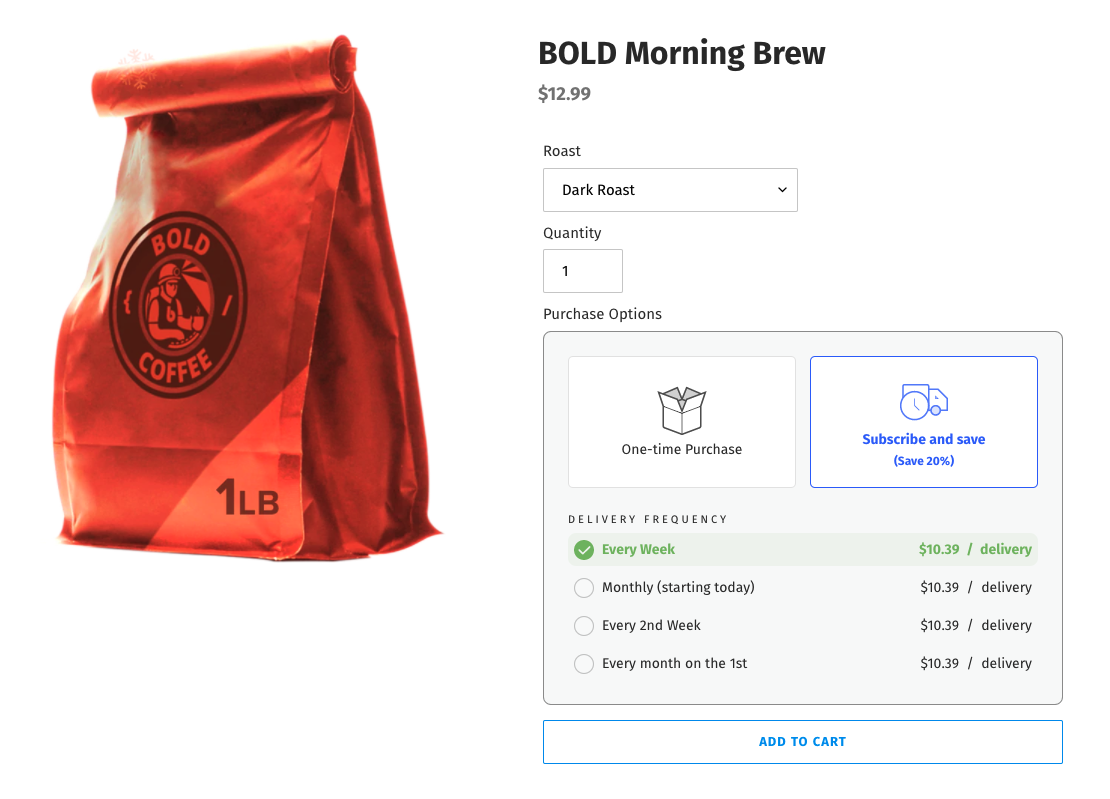 Total Customer Control
Allow your customers to manage their own orders by editing, skipping, and swapping products within their Customer Portal. You can decide what actions your customers can perform within Bold Subscriptions' settings.
Allowing your customers greater flexibility in managing their own subscriptions can reduce churn. Customers may choose to simply skip an order rather than cancelling altogether!
To see a full list of actions that can be completed by your customers, please visit Subscription Management: Customer Perspective in Subscriptions for Shopify Checkout.
Example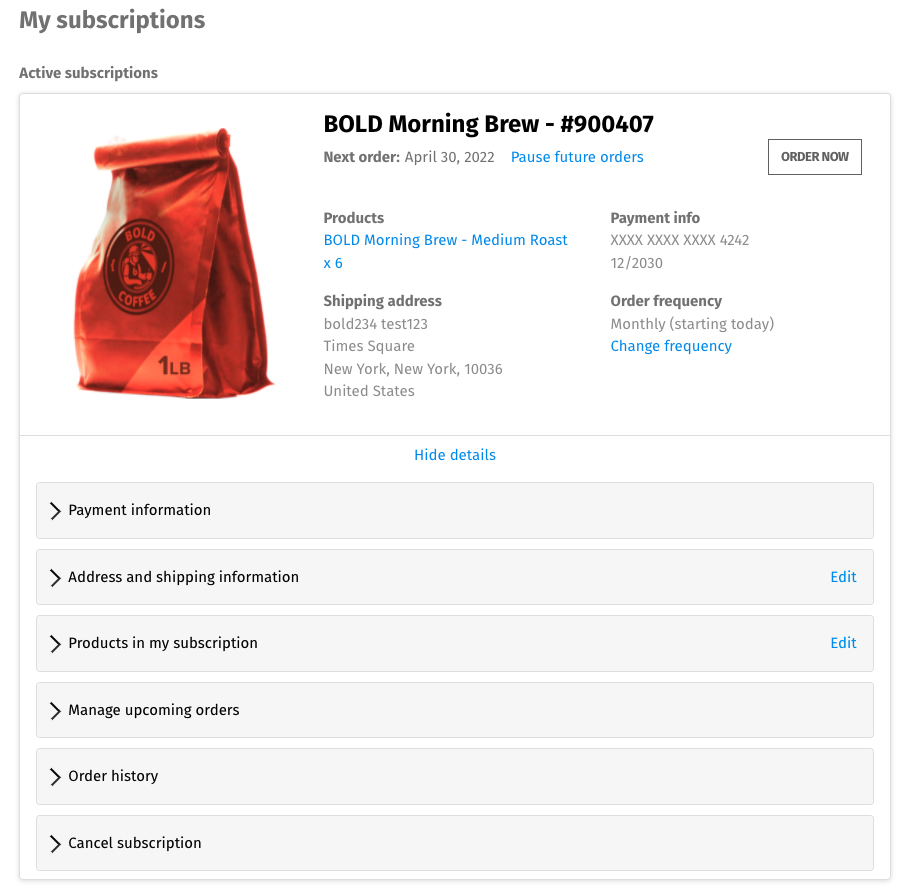 Voluntary & Involuntary Churn Reduction
Reduce churn by creating custom cancellation flows for your customers and managing situations when transactions fail, through the Cancellation and Dunning Management settings.
Using these tools, you can collect feedback from your customers if they choose to unsubscribe. When a transaction fails, you can determine the number of tries Bold Subscriptions will perform, alongside which actions. You can choose to simply pause a subscription, or skip the order instead of allowing the subscription to be cancelled.
To read more about using these features along with their setup, please visit Cancellation & Dunning Management in Bold Subscription for Shopify Checkout.
Full Subscription Management Tools
Not only can your customers manage their own subscriptions through the Customer Portal, but you are also able to access each of your customer's subscriptions to perform a variety of actions. Edit upcoming orders, add a product to an existing subscription, pause or reactivate subscriptions and more.
Use the log in as customer feature to view and use the customer portal as your customer would. This allows you check the permissions you have enabled for your customers, as well as troubleshoot any issues on your customer may be seeing on their end.
To read more about all the actions you can perform when managing your customer's subscriptions, please visit Subscription Management: Merchant Perspective.
Customizable Email Notifications
Within Bold Subscriptions, there are a variety of email notifications you can use to send automatic notifications to your customers, such as:
Subscription Created
Transaction Failed
Upcoming Order
Expiring Credit Card
These emails are fully customizable to allow you to adjust the wording and provide specific instructions to your customer which are unique to your process. Preview these emails by sending a test email to yourself!
For more information on email notifications please visit Email Notifications in Edit Settings in Subscriptions for Shopify Checkout.
Reports, Activity Logs & Analytics
The in-depth reports, activity logs, and analytics within Bold Subscriptions will allow you to download important information within a CSV file so you can analyze your business.
In the Dashboard, you will be able to see your subscription information at a glance such as:
Active subscriptions
Average subscriber value
Churn rate, estimates, and trends
In Reports you will be able to see and download all your current subscriber information as well as historical data such as:
All subscriptions
All customers
Customers by product
Cancelled subscriptions
Transaction fees and sales
Within the activity log, you can review a log of all your customer's changes, app setting changes and other activities. You can filter by event, user type, and date range.
For a detailed explanation of these features and all the available reports, please visit Dashboard Analytics, Reports & Activity Logs in Subscriptions for Shopify Checkout.
Ready-Made Integrations
Bold Subscriptions has a wide variety of ready-made integrations, with more being developed everyday. Integrate with third-party apps to increase the functionality of Bold Subscriptions, or add another Bold product.
With these integrations, you can expand your business model to accomplish the following:
Offer gift subscriptions using the new integration with Govalo Gift Cards.
Create SMS, MMS and text marketing campaigns and services using Bold webhooks with SimpleTexting.
Deliver targeted multi-channel marketing campaigns to your Bold subscribers with Klaviyo.
Track subscriptions that are processed in the Shopify checkout with Google Analytics and Littledata.
Connect Bold Subscriptions to over 2,000 other web services with Zapier.
Increase your average order with Bold Upsell.
Start a loyalty program with Bold Loyalty Points.
For more information on these integrations and more, please visit our Integration Hub for Bold Subscriptions for Shopify Checkout.
Access to Powerful APIs
Bold Subscriptions was designed with developers in mind. For those with developer knowledge, our powerful APIs and webhooks can be leveraged to build and scale a subscription service that fits your business. Tailor your setup, subscriptions and customer portal for a one-of-a-kind subscription experience and drive dependable recurring revenue as you scale.
For more information, please visit our Developer Portal.
Using APIs requires advanced knowledge. It is recommended to have your own developer if you plan to leverage the APIs in Bold Subscriptions for Shopify Checkout.